低パワーレーザー照射で創製した少数層1T'-MoS2において室温量子スピンホール効果の可能性を発見
Discovery of possible room-temperature quantum spin Hall effect in few-layer 1T'-MoS2 created by low-power laser irradiation
サイエンス投稿中

原子層半導体MoS2中にレーザー照射パターニングした1T'相でトポロジカル絶縁体の可能性発見
 Topological insulating states in few-layer 1T'-phase MoS2 patterned by laser beam irradiation
(Collaborated with University of Texas at Austin, Universidad Autonoma de Madrid, University of Pisa, and The University of Tokyo(ISSP))
Phys. Rev.Lett. 掲載

←click
大学プレスセンター https://www.u-presscenter.jp/2019/10/post-42357.html 
青山学院大学HP  https://www.aoyama.ac.jp/post06/2019/news_20191007/
東京大学物性研究所ニュース掲載予定

春山研究室では、二次元原子層(グラフェン、遷移金属ダイカルコゲナイド、黒リン、窒化ホウ素など)、カーボンナノチューブ、などを舞台としたスピントロニクス、磁性、量子輸送特性、超伝導などの研究を行っています。特に最近、トポロジカルな観点から電子スピンの情報がプロテクトされる「二次元トポロジカル物質」の研究に、重微粒子修飾グラフェンやレーザー照射創製1T'相-MoS2などで挑戦しています。原子一層から数層の各種二次元材料が織り成す多様な電子相関・新奇物性、炭素で出来たナノストローが創出する一次元超伝導などは極めて興味深く、次世代電子・スピン・光デバイスの基盤技術としても大いに注目されています。研究内容例は下記項目、及び上記Newsをご参照下さい。



We are researching novel nano-phenomena and those applications to novel functional devices. Target nano-materials are ,for example, carbon nanotubes and 2D atomically thin layers (graphene, TMDC(MoS2, WTe2), black phosphorus, hBN etc.) and target nano-phenomena are topological-insulating states, (edge)spintronics and magnetism, superconductivity, electron correlations, quantum electron transport, and photonics. In particular, we are focusing on research of low-dimensional topological insulators (TIs), recently. In TIs, bulk has non-trivial energy gaps due to spin-orbit interaction, while the gaps close at the interface with other states. Because spin phases at the interfaces are topologically protected, TIs can be ideal candidates for next-generation spintronics with low energy dissipation. We are challenging to create 2D TIs by decorating extremely small amount of heavy nanoparticles (Bi2Te3, Pt) on graphene and by causing 1T' phase on TMDC (MoS2 and WTe2) only by irradiating laser beams. When theses 2D TIs are transformed to 1D TIs hybridized with superconductors, miracle particle, Majorna Fermion (MF), is expected to appear at the interfaces. Topological quantum computation and topological photonics will be realized based on this MF.

| | |
| --- | --- |
| ■Other Atomically-thin Topological Materials | ■Atom-thin MoS2 Schottoky junction |
| |   |
| MORE | MORE |
| | |
| ■Atom-thin edge spintronics on various nanomeshes | ■Unique quantum transport in atom-thin layers |
| |   |
| MORE | MORE |
Past Topics

←click

Latest Books

←click


春山先生編集のナノ炭素に関する超伝導の本、絶賛発売中!


『Carbon-based Superconductors』
Pan Stanford Publishing
Editor: Junji Haruyama
Now on sale!!

本のCover写真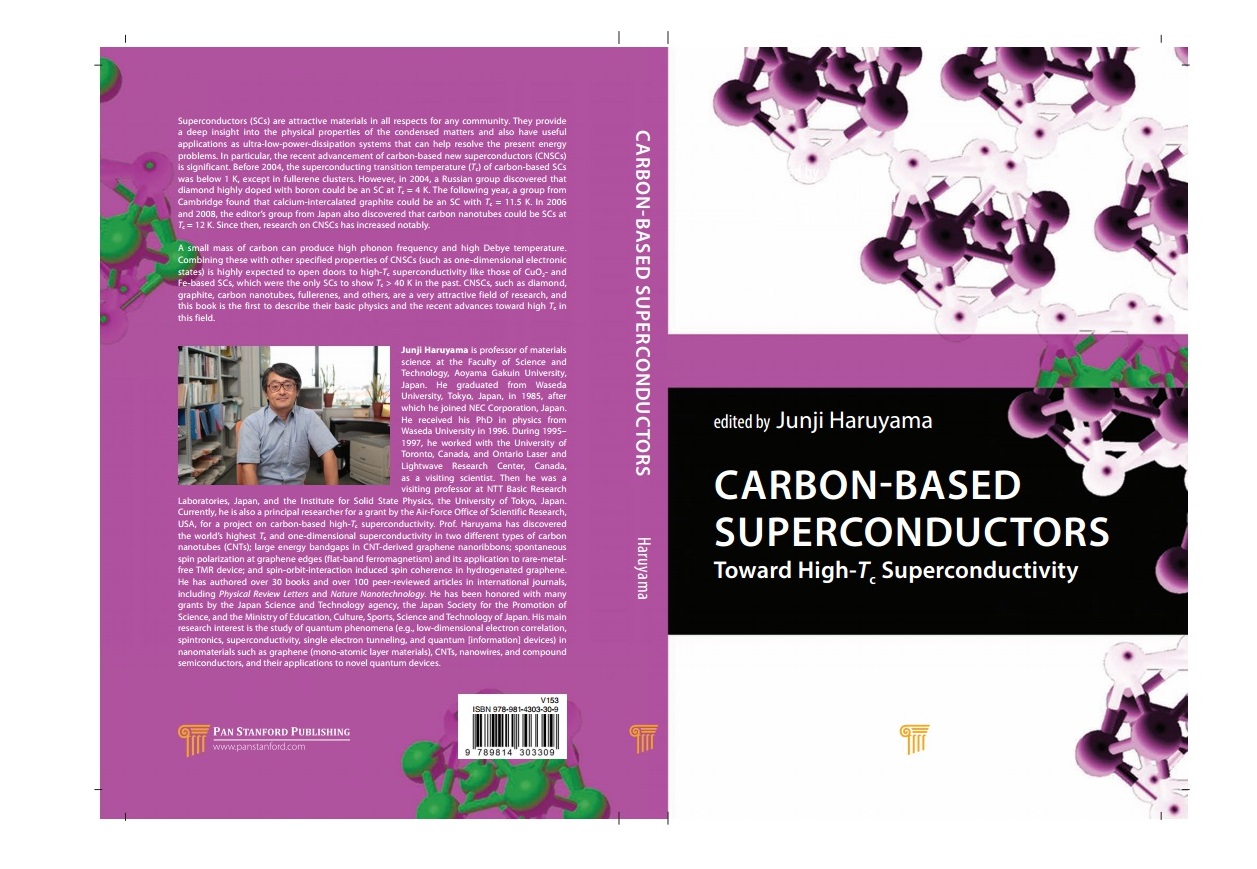 出版社URL
アマゾンURL






Past research subjects




Haruyama Laboratory, Material Science Course,
Faculty of Science and Technology, Aoyama Gakuin University
5-10-1 Fuchinobe, Sagamihara, Kanagawa, Japan 252-5258
Phone: +81-42759-6256


Copyright©since 2002 Haruyama Laboratory
All Right Reserved.